ASU members have led the campaign for 10 days paid family and domestic violence leave and this week we have won.
On Monday, the Fair Work Commission made an in-principle decision that 2.66 million workers covered by modern awards should have access to 10 days paid Family and Domestic Violence Leave. We await the final details and introduction of the clause as they are finalised by the Fair Work Commission.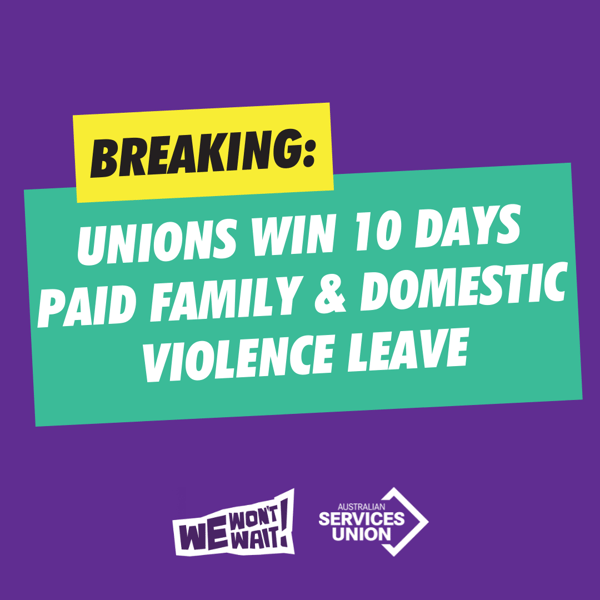 This is an historic step and will be life changing for women experiencing family violence.
Key points of the FWC's decision are as follows:
Full time employees and, on a pro-rata basis part-time employees should be entitled to 10 days paid FDV leave per year. The FWC's provisional view is that it shouldn't extend to casuals, and there should be no supplementary unpaid FDV leave.
The entitlement should accrue progressively across the year in the same way as for personal/carer's leave accrues under the NES, subject to a 'cap' whereby the total accrual does not exceed 10 days at any given time.
The FDV leave entitlement should be accessible in advance of an entitlement to such leave accruing, by agreement between an employer and employee.
Paid at the employee's 'base rate of pay' as defined in s.16 of the FW Act.
The definition of 'family and domestic violence' should be in the same terms as the definition in s.106B(2) of the FW Act (and not extend to FDV perpetrated by a member of the employee's household who is not related to the employee as we wanted).
In all other relevant respects the model FDV leave term should reflect the terms of the current unpaid provision in the NES.
Unions will work with employers to formulate a draft model FDV leave and file with the FWC next month. Stay tuned for more details on the next steps!
The very first family violence leave in an enforceable industrial agreement anywhere in the world was negotiated by the Australian Services Union in 2010.
Paid family and domestic violence leave can give a woman – and it nearly always is a woman – the time, support and job security she needs to escape and recover from an abusive relationship.
This is a fantastic first step, but we can't stop now. To cover all workers, we need at least 10 days paid family and domestic violence leave in the National Employment Standards. The campaign continues and you can still add your voice to the calls for FDV leave in the NES.
We won't wait, because women can't wait.
Note: Queensland Public Sector members already have the protection of 10 days FDV leave under the Support for employees affected by domestic and family violence Directive.