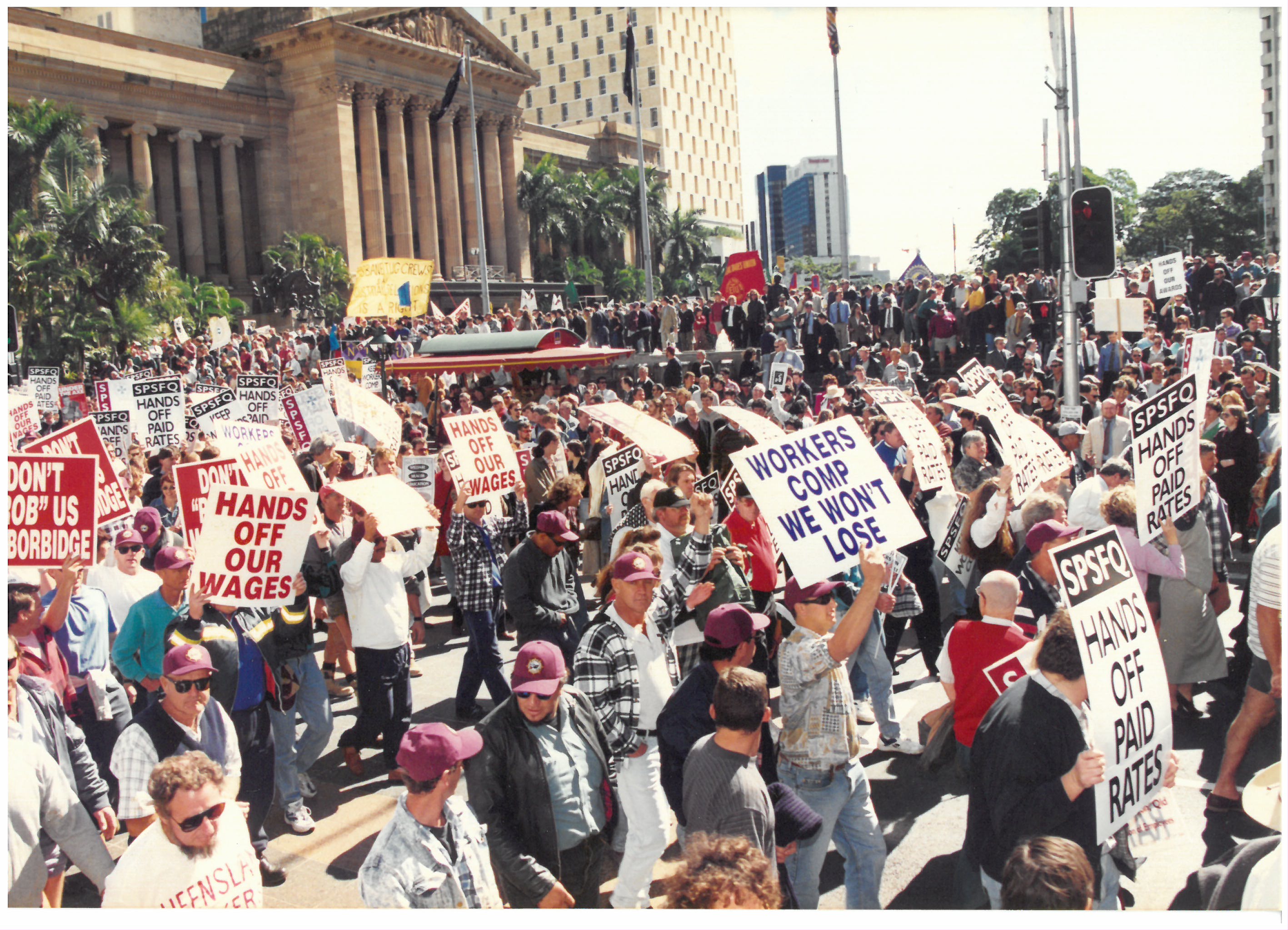 Our members have a proud history of working to improve conditions in Queensland for generations.
Below you can read some of the stories of our predecessor organisations, representing the thousands of people who each played a part in building a better Queensland for all of us. All of these stories have one thing in common: they are the stories of working people building a better Queensland.
In January 2011 the latest chapter in our history was written when members of the QPSU and the ASU Central and Southern Queensland Branch voted overwhelmingly to form one union. Our united body came into existence on 1 July 2011.
QPSU and public sector predecessors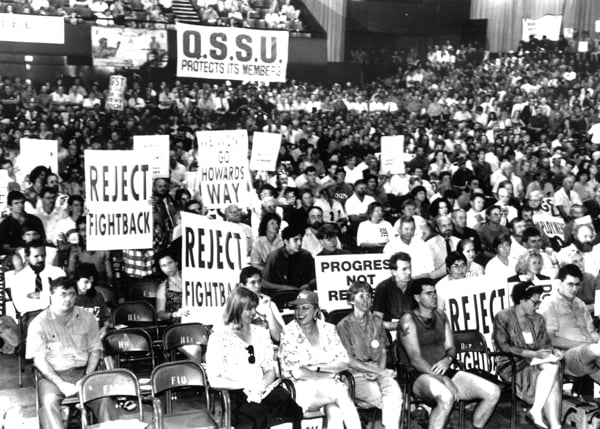 The union that would be known as the QPSU was founded on 17 September 1902 as the Public Service Association of Queensland (PSAQ), a successful revival of an earlier public service collective that existed in the 1890's. A notable founding member was Supreme Court registrar Arthur Hoey Davis, better known by his pen-name of Steele Rudd.
One of the new association's main focuses, as with the old, was an adequate government superannuation scheme, a campaign which the PSAQ prosecuted alongside other unions for some years. During this campaign Queenslanders took a stand to ensure they got recognition for their years of employment and would have quality of life beyond their working life.
In 1912, the government finally came close to agreeing to a scheme that met the requirements of the potential contributors. A government Superannuation Board was created, with union representatives.
On 29 August the same year, professional officers, in order to have their own appointees on the Superannuation Board, formed the separate Queensland Professional Officers Association (QPOA). The two public service unions would reunite some 80 years later, after more changes of name.
The reunification of the QPOA and the Queensland State Service Union took place in 1992, under the name "State Public Services Federation of Queensland". In 1999 this name changed again to the "Queensland Public Sector Union" which was the name the union was known as until becoming part of Together.
Federated Clerks and ASU
The body known as the ASU, Central and Southern Queensland Clerical and Administrative Branch had its origins in the Federated Clerks Union, which came into being early in the 20th Century, following the struggles of working people during the great depressions of the 1880s and 1890s.
Clerks suffered wage cuts during the 1890 depression when their pay rates were already lower than those paid in other comparable areas of employment. In 1907, when the concept of the "basic wage" was introduced and fixed at forty-two shillings per week, the going rate for a clerk ranged between twenty-five and thirty shillings a week. It was a commitment to ensuring that they could make ends meet and provide for their families that led people get involved to make change.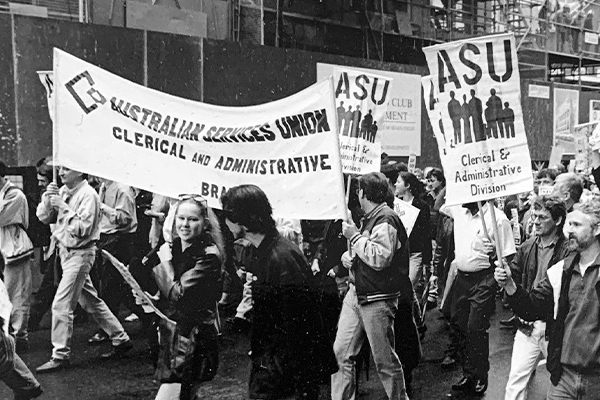 Between 1900 and 1907, attempts were made to organise clerks in different parts of Australia. A Victorian Union of Clerks was founded in 1901, and a South Australian Associate of Clerks and a Clerks' Union in New South Wales were formed in 1905. In 1911, the Federated Clerks' Union was registered in the Commonwealth Arbitration Court.
During this time, in Queensland, shipping clerks had become increasingly active. In 1914, the Queensland Association of Clerks linked up with the newly-registered federal body.
The first Federal Conference was held in 1916.
In 1993, members of the Federated Clerks joined with union members from other areas to unite as the Australian Services Union. This national union is one of the largest in Australia, covering over 120,000 members nationally. Members of Together are also members of the ASU at a federal level.
Throughout our history, and today, being union has been about building a better life and getting respect for the work that we do.
Together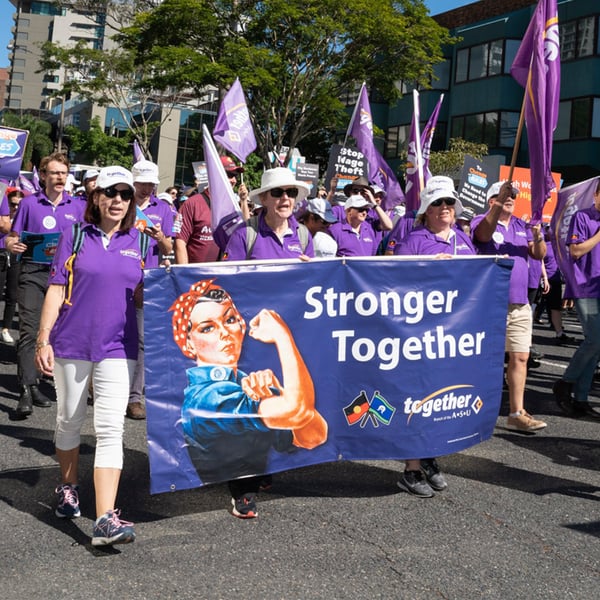 Together formed in 2011 after an amalgamation of the Queensland Public Sector Union and the Australian Services Union and since then we have been fighting for members rights at work and for a better Queensland for all.
In 2012 one of Together's first and most substantial challenges came in the form defending the rights of workers from the anti-union and anti-public service LNP Government led by Premier Campbell Newman. This was a defining period for our members. Together members were pivotal in the fight to protect public services and made sure the Queensland public understood the devastating consequences resulting from the massive cuts to public sector jobs of the Newman Government.
Together members with other unions protested in the streets, campaigned in their workplaces and in the state election to help defeat this government. Working with Working for Queenslanders to fight for a bill of rights, against unfair doctor contracts during the Keep Our Doctors campaign and against privatisation and asset sales – Together members continue to fight for a fairer Queensland, with public services for all and keeping those services in public hands.
To find out what important issues Together members are campaigning for today, find out more here.